---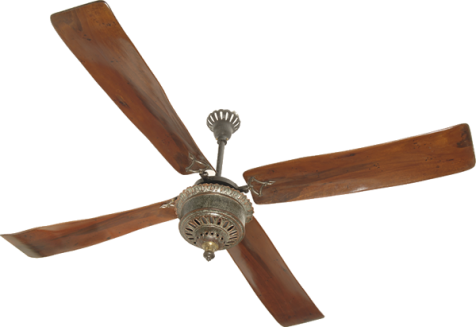 Marelli Rame - Italy - 1898
DESCRIPTION
Marelli Rame is the first large-diameter, direct-current fan manufactured by this Italian company; it is unique indeed for its copper-coated, cast-iron body.
Conceived for prestigious boardrooms and executive settings, it was marketed until early '900 and represents one of the rarest pieces in our collection, if not the most rare. There are in fact very few pieces worldwide, and ours is probably the only one still in working conditions.
Recovered around the Parma province (Central Italy), in an old dairy farm out of business for more than 50 years, after more than a century the original engine was still in almost perfect conditions, thus testifying to Ercole Marelli's manufacturing excellence. The fan has then been accurately and lovingly restored and is a centerpiece of our collection.
SPECIFICATIONS
| | | | | | | |
| --- | --- | --- | --- | --- | --- | --- |
| Model | Country | Year | Blade nr. | Diam. | Power | Weight |
| Marelli Rame | Italia | 1898 | 4 | 200 cm | D.C. | 40 kg |
Leave your email and then download the product file
Inquire Price of this Fan
PHOTOGALLERY
---