---
Period Originals – Vintage and antique ceiling fans
The most famous ceiling fans of the 19th and 20th centuries
Fantique's "Period Originals" collection includes a selection of about 1000 original ceiling fans, from various continents, particularly from the former colonies of the British Empire.
Produced in such noble and resistant materials as cast-iron, brass and wood and endowed with perfectly reconditioned motors, they've been brought back to their original splendor through meticulous restoration work. Most of the companies that produced them no longer exist, there were about 15 brands and about 40 different models, most of which had 3 blades (though our collection also has 2 and 4-blade models) and range in diameter from 90 cm for the smallest to 180 cm for the largest.
Almost all the oldest models were produced in the West, between 1890 and 1945 by the most important industries of the era: the European ones were Ercole Marelli, CGE, Siemens, Crompton Parkinson, Kingston, Vickers-Metropolitan, Veritys, meanwhile the American ones were produced by General Electric and Westinghouse.
The "more recent" models though came from Indian companies: USHA, India Electric Works, Kassel and Tropical, who began fan production for the English in the decade of 1930-1940.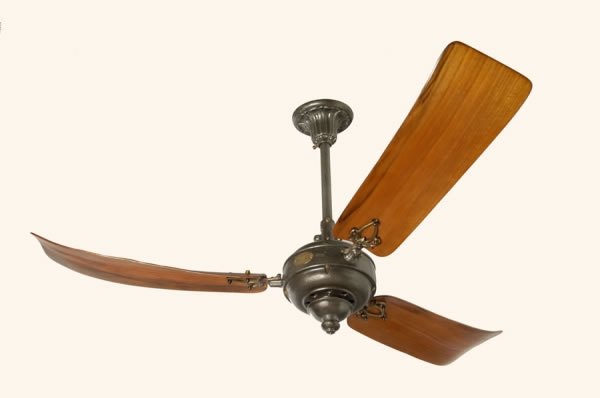 ---