---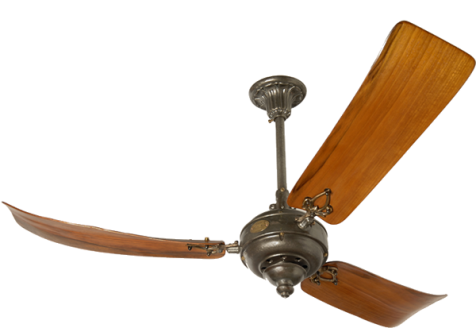 Marelli TAJ - Italy - 1910
DESCRIPTION
The first Italian ceiling fan manufacturer was Ercole Marelli, in Milan, starting its industrial adventure in 1891 with the production of the so-called "electrical air agitators ". At the time, the most popular ceiling fans – most of them American – were both very big and heavy. Marelli built instead a series of alternating-current fans, which were lighter, more elegant and practical, and most of all, more suitable for a domestic use. Its business success was immediate, and within a few years Marelli became one of the largest fan manufacturers in the world.
Around 1910, Marelli released the Maestralino model , which soon became the most representative and efficient ceiling fan of the early '900. The Maestralino fan was manufactured in many different versions and exported worldwide (mostly in the British Empire's Colonies) for decades.
The Maestralino's "Taj" version, with 3 or 4 blades of cm. 150 or cm. 170 diameter, was placed in many luxury hotels of the British Colonies: in Singapore at Raffles', in Mumbay at Taj Mahal's, (where it could still be admired until not long ago), in Rangoon.
SPECIFICATIONS
| | | | | | | |
| --- | --- | --- | --- | --- | --- | --- |
| Model | Country | Year | Blade nr. | Diam. | Power | Weight |
| TAJ Maestralino 56" 3 blades | Italy | 1910 | 3 | 150 cm | 80 watts | 18 kg |
| TAJ Big 3 blades | Italy | 1910 | 3 | 170 cm | 150 watts | 28 kg |
| TAJ Big 4 blades | Italy | 1910 | 4 | 170 cm | 160 watts | 28 kg |
Leave your email and then download the product file
Inquire Price of this Fan
PHOTOGALLERY
---