---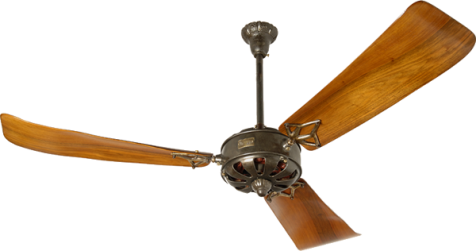 Siemens Big MD 70 - Germany - 1910
DESCRIPTION
Siemens was among the first European manufacturers of fans which were mainly targeted to the British colonial market, and therefore with frequency and voltage suitable to those countries.
The catalogue of Siemens' historical Museum shows how during the first decade of 1900 the firm's Munich plant switched from the production of direct-current models to the production of two new alternating current fan models: MD 30 and MD 70.
They were two special models, with large openings in the engine body to ease its cooling-off, and equipped with an oil cup in the upper part to lubricate the engine shaft. Both these models, perfectly restored and in working conditions, are considered extremely rare.
SPECIFICATIONS
| | | | | | | |
| --- | --- | --- | --- | --- | --- | --- |
| Model | Country | Year | Blade nr. | Diam. | Power | Weight |
| Big MD 70 | Germany | 1910 | 3 | 160 cm | 120 watts | 22 kg |
Leave your email and then download the product file
Inquire Price of this Fan
PHOTOGALLERY

---